CONTROL CUT WORMS NATURALLY | In One Easy Step
Cut Worms can viciously chew through the stems of young seedlings and completely toppled them overnight. Discover this simple yet effective way to control cut worms naturally!
Cutworms or cutter worms, as some call them, love the entire Brassica family which includes: broccoli, cauliflower, cabbage, Brussel sprouts plus they also love bean and tomato seedlings, too.
How to Control Cut Worms Naturally
::WARNING::

You must take action prior to realizing you have a cut worm problem!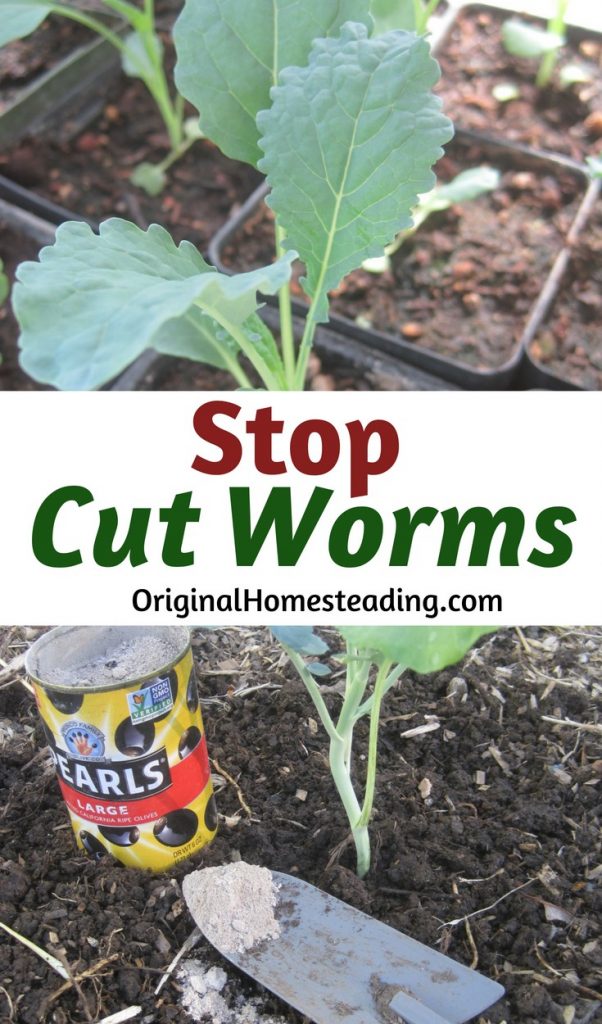 Learn how to get rid of cutter worms…..Be proactive and control cut worms naturally NOW!
CUTWORM DAMAGE:
These caterpillars are the larvae of night flying moths and have the capability to completely ruin your tender seedlings overnight!
CUT WORMS CAN TOPPLE SEEDLINGS OVERNIGHT:
I have had cut worms topple many seedlings before I even knew they were present in the dirt.
This is why it is so very important to take this easy precautionary step to ward off the pending devastation.
Tomato cutter worms can topple your tomato seedlings overnight. They are devastating!

WARNING SIGNS:
Sadly, there are really no warning signs of cut worms unless you happen to see the little curled up bodies while digging in your garden soil.
These little creatures come out at night and burrow in the top layers of the soil during the day.
Cut worms can be any color. The variety that we have are mainly brownish green.
The telltale sign is the way you find them in the dirt. They seem to be tightly curled up during the day in a small curl.
If you find them, feed them to your chickens or destroy them completely. They are not your friend!!!
Follow the simple steps below to learn how to control cut worms naturally!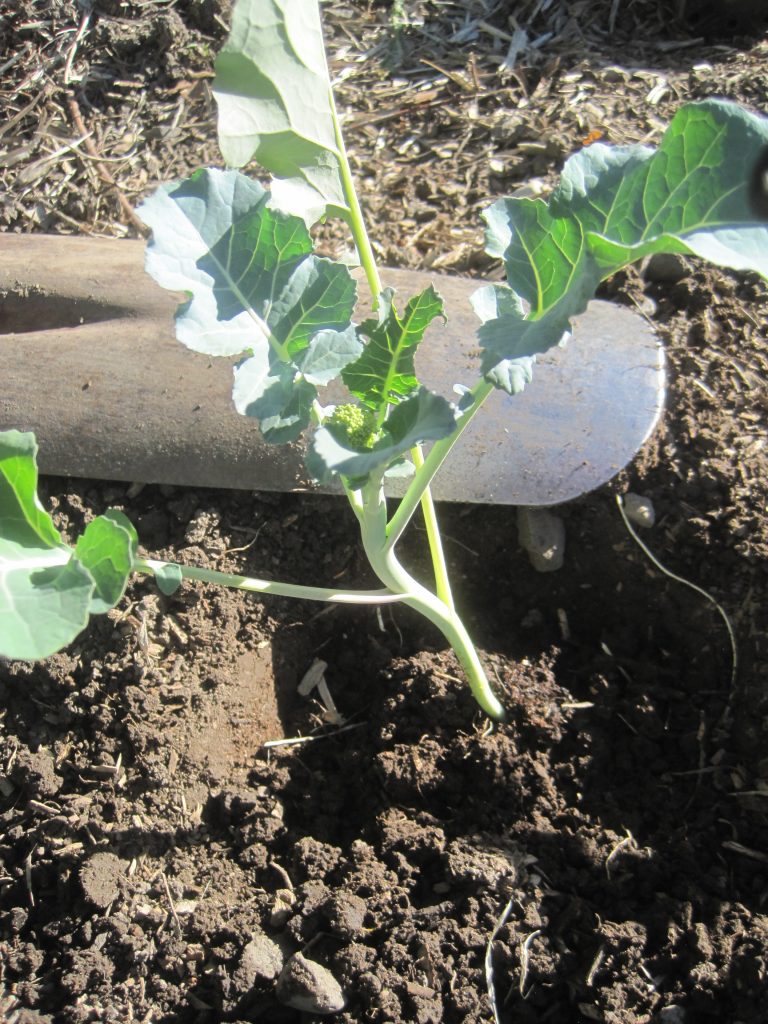 STEP NUMBER ONE:
Carefully transplant your brassicas, beans or tomato seedlings into your garden. Make sure to pat the dirt around the stems of each seeding.
Members of the brassica family like the dirt to be somewhat firm around their stems.
I like to make a depression or "well" area around each of my transplanted seedlings for water.
STEP NUMBER TWO:
Take wood ash from your wood stove or fireplace and carefully sprinkle a collar of ashes around the stem of the seedlings.
Make sure to get some of the ashes below the soil line. Sprinkle them about 1/2″ to 1 " deep to help prevent the cut worms from burrowing under the surface of the soil
This wood ash is scritchy-scratchy on the soft worm bodies. The cut worms will not cross this wood ash collar.
If you do not have access to ashes, check with a neighbor as they may offer you some of their ashes for this purpose.
If wood ashes are not available, then diatomaceous soil or earth is equally as good. Diatomaceous earth is made of small abrasive particular that do the same thing as the wood ash. They cause the scritchy-scratchy feeling that the cut worms plus, as an added benefit, the cut worms will eat the diatomaceous dirt and die from internal abrasion.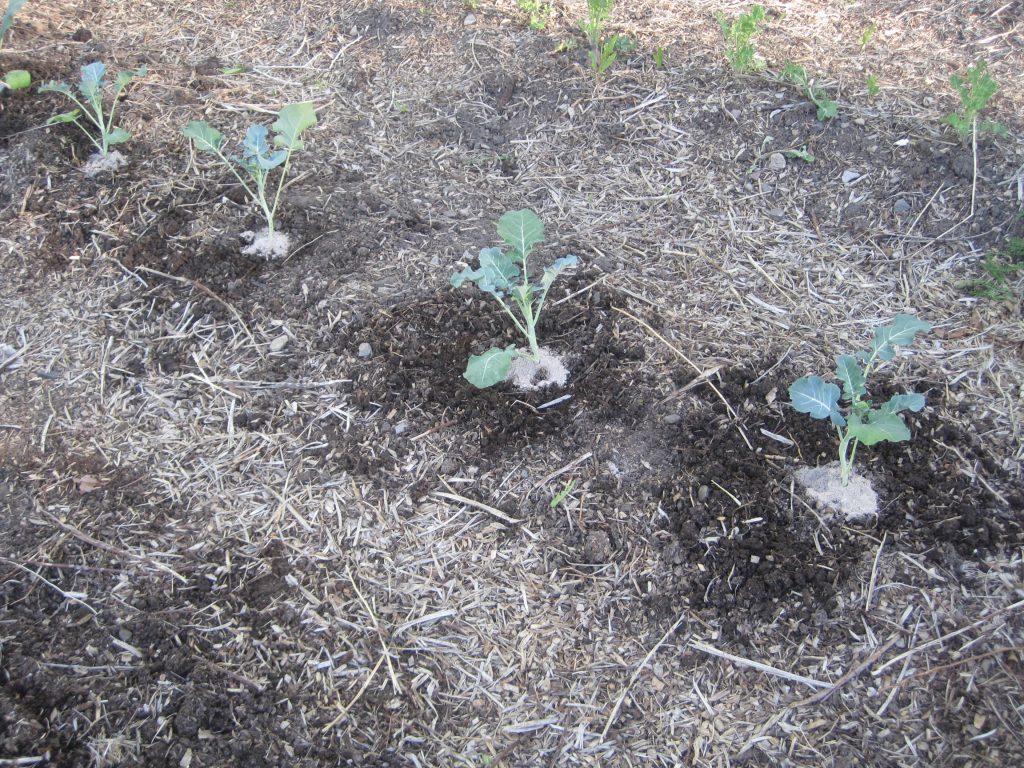 ONE EXTRA PRECAUTIONARY STEP:
I usually take one additional precautionary step……I like to add some wood chips on top of the ashes. The wood shaving add additional extra scratchiness as an extra deterrent.
Have you experienced Cut Worm damage? Please leave a Comment below on how you solved this dilemma……
ADDITIONAL IDEA TO PROTECT SEEDLINGS FROM CUT WORMS:
Paper Collars-I have made small paper tubes out of 3 x 5 index cards. I cut the index card in half from top to bottom.
Then, I roll the index card to form a tube. By rolling these tubes ahead of time, you make a circular paper protective tube that can be carefully slipped around each seedling stem.
I have made many of these paper tubes. They work…..but are labor intensive.
I now prefer the wood ash collars due to the fact they are so much faster to add while planting your individual seedlings.
So, if you are one to say, Ugh…..Cut Worms…..you now know how to control cut worms naturally in one easy step!
If you found this information interesting and helpful, please share it with your all your Gardening Friends!
They will be Happy….as, an ounce of prevention is definitely worth a pound of cure in this case!!