If you have been wanting to heat with wood, you have come to the right place.
We have been heating with wood for decades and have had a variety of wood stoves, fireplaces, fireplace inserts, wood cook-stoves, camp-stoves, quartz electric stoves as well as DIY homemade wood-burning stoves…..
HEATING WITH WOOD
To begin with, let's go over some of the basics: Wood Heat does require planning and effort as you are the main person in gathering, cutting, splitting, stacking, and hauling as well as loading the wood stove or fireplace and then cleaning out the ashes.
But…the benefits of heating with wood are so worthwhile:
Radiant warmth is hard to beat: there is nothing like sitting in front of your wood-stove after work on a cold evening
Firewood provides a self-sufficient means of keeping your family warm
Wood stoves, Fireplaces, and Inserts offer an alternative to the grid
Firewood is consider to be Carbon Neutral so it is a very "green" heat source
Plus, your Saturdays will already be planned as you will be dealing with your firewood pile!!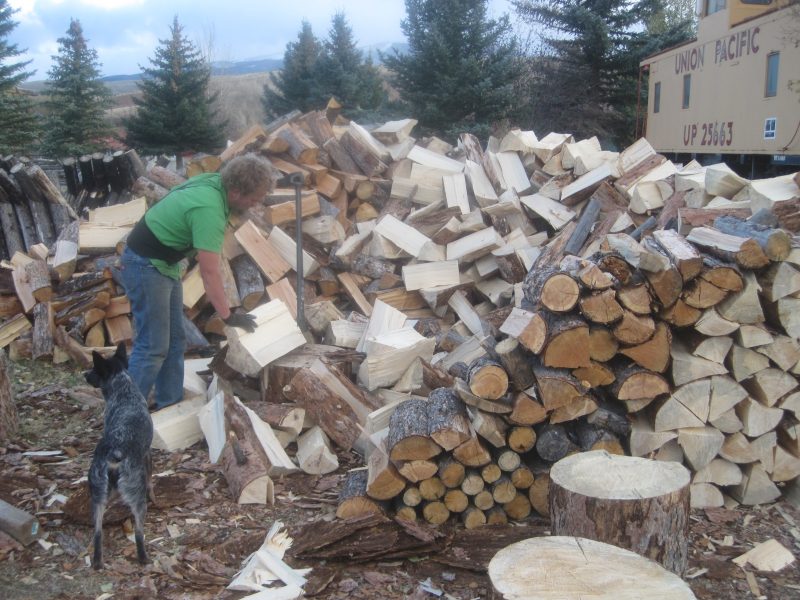 You May Also Enjoy:
Necessary Equipment to have when cutting and splitting your own Firewood:
Chainsaws – We have always run Husqvarna Chainsaws for our log home company; we also use these saws for firewood

Back Brace

– it is super wise to protect your back when splitting wood.

Two Man Hand Held Crosscut Saw

– this is what the old-timers used!! Those guys were tough!!!

Super Splitting Ax

– a splitting ax is super helpful when splitting large blocks of firewood (this is so much easier than using your ax)
Sledge – use a sledge-hammer if you use a wedge when splitting large blocks of wood
Sharpening Stone –

for your ax and, also for a household knife sharpener

(Helpful tip for a knife sharpening stone, get one of these Smith's DCS4 4-Inch FINE & COARSE Diamond Combo Sharpening Stones)
Electric Power Splitter – these are super helpful but are more expensive. (this could be a part-time income source-hiring out to split other people's woodpile)

Gas Powered Splitter

– gas-powered splitters are more mobile as they do not require an electric outlet (this could be a part-time income source-hiring out to split other people's woodpile)
Or, simply Buy your Firewood from a local Firewood Dealer (firewood is usually available from private sellers in most areas)
This is one of the very best axes for a great price on Amazon…… Fiskars Super Splitting Ax.

Extremely IMPORTANT Safety Equipment: these next two items are of vital importance-just stop and get them NOW!!!
⇒Smoke Alarms in Every Bedroom and Hallway. Read Manufacturer Suggested Guideline for Proper Installation.
Important points to Consider when burning Firewood
Wood heat requires time and effort
Woodstoves and Fireplaces require proper maintenance
Dampers, Flue and Chimney need proper installation, inspection, and maintenance
Woodstoves and Fireplaces may need other provisions with your Homeowner's Insurance
Safety features need to installed especially with young children in the household
Proper Tools are required in certain situations such as chimney cleaning equipment

Chimney Brush

and Chimney Brush Rod.
Make sure to know the quality of the wood. Do not buy or cut rotten wood as it just not worth it as there is no heat value left in it
Very Important to have the proper length of wood. Check your wood-stove or fireplace for the best length
Tools we use on our Hearth:
Here is information from the Indiana Department of Natural Resources that will be helpful when heating with wood in your wood stove:
Species Density Heat Value of various tree species
"The Best Kinds of Firewood species of wood produce more heat than others. The heat a log produces depends on the density, moisture content, resin and ash in the wood. The chart to the right shows the densities and heat values of various tree species common in Indiana. The heat value of hickory is set at 100. The chart lists those woods that burn longest at the top of the list, while those toward the bottom will ignite and burn more quickly. When low-density woods are mixed with high-density woods, the fire will start quickly and burn a long time. Fruit tree woods added to the fire will give off various sweet-smelling aromas. There are some species of wood, such as elm, that tend to yield less desirable aromas when burned." This complete document can be found at http://www.in.gov/dnr/forestry/files/heatingwithfirewood.pdf
⇒The first number is the Species Density
⇒The second is the Heat Value
Apple .58-.62 83-84
Ash .57-.61 81-82
Aspen .37-.39 53
Basswood .37-.39 53
Birch .55-.64 79-86
Black Locust .69-.70 95-98
Blue Beech .65-.61 89-91
Cherry .50-.52 70-71
Cottonwood .37-.41 54-55
Dogwood .70-.79 100-107
Elm .50-.59 71-80
Gum .48-.52 69-70
Hard Maple .58-.65 83-88
Hickory .70-.74 100
Hophornbeam .70-.75 100-101
Mulberry .59-.63 84-85
Oak .60-.73 86-99
Osage Orange .78-.83 112
Sassafras .44-.46 62-63
Soft Maple .47-.54 67-73
Sycamore .49-.52 70
Tulip Tree .40-.42 57
Walnut .52-.55 74
White Pine .35-.37 50
This chart published by the Indiana Department of Natural Resources. Not all tree species are listed here but a good majority of them are on the list. This should be very helpful across the country. A printable copy is found at http://www.in.gov/dnr/forestry/files/heatingwithfirewood.pdf
⇒Helpful Tip: a cord of firewood is 4 foot wide by 4 foot high by 8 foot long
4′ x 4′ x 8'=128 cubic feet
When needing a freestanding firewood pile, rick-rack the ends of each row to create stable corners. This is easily done just about anywhere.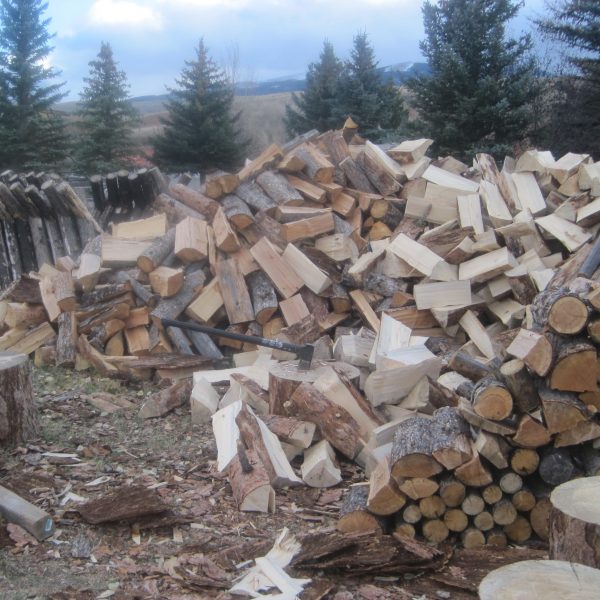 Rick racked corners make very convenient freestanding firewood rows.
Here is the style of

Non-Electric Fan

that we use on our wood-stove.
We keep two of these non-electric fans on our stove at all times. They help to gently circulate the warm air and are totally quiet.
These are especially nice if the electricity goes out. It is important to ensure some type of air circulation for a couple of reasons.
First, it moves the warm air around the room. And, secondly, to keep the stove from overheating.
Remember to keep your stove or fireplace clean by removing the ashes. The Koal Keeper Ember Recovery Tool works great! This is a real-time saver and simplifies fire maintenance. Sift out the embers in your .
Price: $14.99
Sale: $14.99
DIY Fire Starter – Learn to Make your own super effective Homemade Fire Starter
This type of electric heating stove offers the beauty and warmth of wood heat without the added labor.
Here is my favorite resource for all things Homesteading, Gardening, Livestock, Chickens & Poultry, Recipes, etc………
The Encyclopedia of Country Living
Pin It for Safe Keeping!
Please note that many of these photos are from our home. The items have been in use and so are not brand new looking.
Enjoy the Warmth of Wood by Heating with Wood in Your Wood Stove