Ever wonder about adding mulch for gardening success? Mulch makes the gardening adventure so much easier…….it helps retain soil moisture while suppressing weeds. We have learned a lot about using mulch for gardening success!
One method that a lot of people are using is the "The Back to Eden" method of mulching with wood chips made from whole trees, limbs and branches to create Ramial Wood Chips.
This video is extremely helpful in explaining the need to protect and enrich the soil environment in order to grow beautiful and nutritious fruits and vegetables. Plus, this video is so helpful in explaining the relative ease of gardening when using mulch. Once you establish the proper growing environment with regard to soil nutrients and soil moisture content, everything just grows better.
Mulch for Gardening Success
Due to our rural location, we do not have tree branch mulch available so we needed to buy a chipper / shredder in order to make our own mulch.
We purchased a BRUSH MASTER Chipper Shredder for our garden mulcher and it has worked out just great!!! We have had a very good experience with this particular Chipper Shredder which is why we recommend it.
Having our own chipper shredder also enabled us to do extensive yard and land clean up by chipping all the extra limbs, branches and small trees that we have been clearing out. We have used our Brush Master chipper for many hours and it still runs well.
The chipper blades need to be sharpened periodically as listed in the instructions. Just remove the blades as indicated and sharpen as needed.
You may be able to locate wood chips in your local area but if you are unable to you should consider purchasing your own chipper / shredder for your homestead.
This is also another way to earn income by taking your chipper and renting it out. We would advise that you be the sole operator of your chipper so you would hire yourself out along with the chipper. Remember to wear ear and eye protection at all times while operating this chipper / shredder.
Here is a load of small green trees, green branches and green limbs with leaves, that we started chipping.
We built a wooden bin and a small ramp (as shown in the first photo) to hold the ramial wood chips.
The Brush Master Chipper Shredder comes with a bag to catch the wood chips but we had so many trees, limbs and branches that we decided a wooden bin would work out better for us.
This is a close up photo of the ramial wood chips. You can see all the green from the leaves and stems that have been chipped along with the bark.
We then loaded the ramial wood chips into a wheelbarrow and spread them throughout the garden. If we had heavy grass or turf to go over, we first spread of layer of newspaper or cardboard to help with weed suppression and then put down the wood chips.
We spread the wood chips about 2″ to 3″ thick as shown around our onion plants. Pull the wood chips away to expose the dirt to ensure the seeds and bulbs are planted and covered with dirt. The soil needs to "breathe" so do not make your mulch too thick. This is especially true with denser clay type soils.
Special Note: Always make sure to plant your seeds, bulbs or sets directly in the dirt. This is very important.
The Backyard Homestead Seasonal Planner:
What to Do & When to Do It in the Garden, Orchard, Barn, Pasture & Equipment Shed

Here are the first potato plants peeking through the wood chips………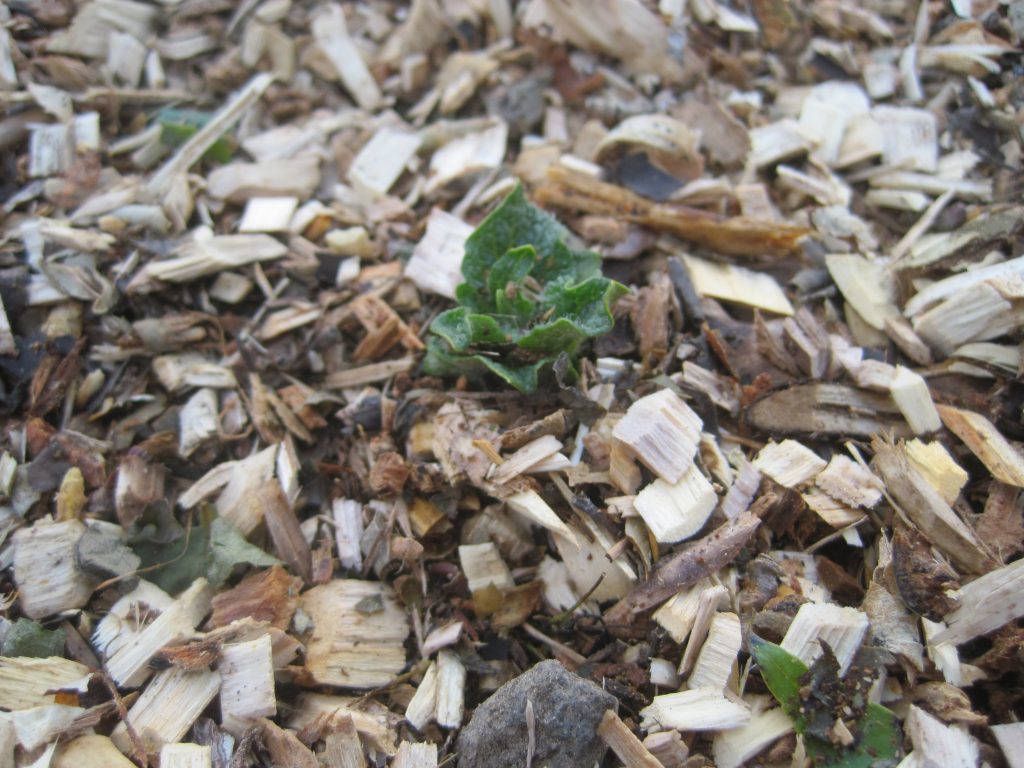 It is amazing to see the difference in the soil moisture content from where there are wood chips as opposed to the walkways without wood chips.
If you have enough wood chips then spread some in the walkways to keep them from becoming muddy. This makes for nice pathways.
Want to see one the best sprinklers ever? Take a look at this: Hi-Rise Lifetime Sprinkler
So the end results were impressive……We had some huge potatoes…….these are Adirondacks Reds! Not all our spuds were this huge but we did have some that were quite noteworthy!!!
We have also grown Yukon Gold, Blue Adirondack, Purple Majesty and Colorado Rose potatoes with equal success. This type of mulching helps in many ways and is extremely beneficial when growing potatoes.
The mulch for gardening success application protects the soil, increases soil microorganisms, encourages worm populations, provides a healthy environment for root development, all of which make for strong, healthy garden productivity.
One final thought: make sure to follow the method of using all greens, green branches and green limbs with the leaves and NOT dead branches or limbs. We made the mistake of not using just green limbs with the bark and had a nitrogen problem with some stunted plant growth.
I added a natural Alaska Fish Emulsion Fertilizer 5-1-1 Concentrate 1 Gallon to boost the nitrogen in the soil and that helped tremendously.
If using dried wood chips or bark, just make sure they have started to rot or decompose. If these wood chips or bark have not started to rot, they will draw nitrogen away from the soil causing your planted to become nitrogen depleted.
Lesson Learned:
One other thing to keep in mind if you decide to use the back to Eden approach with Ramial wood chips is your location. We live in high desert environment. We did not take this into consideration when starting with this method.
The wood chips did not break down as fast as we thought they would due to the fact we have such a short growing season and are relatively semi-arid.
The whole idea of making our own chips and mulch was still extremely beneficial. We used these wood chips in the garden and as a mulch around bedding plants and shrubs. It was just that they did not break down as fast as we had hoped.
The ramial wood chips work great in areas with longer growing seasons where things decay and breakdown much faster.
Related Post: Lettuces and Greens in your new garden!!

Other Types of Mulch for shorter growing seasons:
Mulch is still a very important step in creating healthy garden soil. If you live in an arid environment or in an area where it takes a long time for things to breakdown and decay, then consider using leaves, peat moss, grass clippings and even newspapers as mulch.
These items will breakdown faster giving your soil a beneficial boost. The smaller the size material, the faster they will breakdown thus providing the needed nutritional boost to the soil.
Be very careful when using hay or straw for mulch. Hay and straw can contain a huge amount of weed seeds which will totally start growing in your wonderful garden soil. We all have enough weeds without introducing more through our mulching efforts!
One interesting fact with our mulching experience is the size of the earth worms that grew in our garden. Earth worms are a gardener best friend as they pull assist in the composing process. The ramial mulch provided a wonderful environment for earthworms.
Quick tip to getting free earthworms: after it rains, when the earthworms come to surface (so they do not drown) gather them up from the grass, sidewalk or driveway and put them into your garden. You will be amazed at how fast they multiple!!
Completely Suppress Weeds in Flower Beds
If you need to completely suppress the weeds in areas that you are not planting, then consider buying some of Gardener's Supply 20-Year Weed Shield® Weed fabric then cover with a lighter amount of mulch.
Only use weed cloth in areas that will not be continually be tilled and planted. Weed cloth completely covers the soils and does not allow the mulch to breakdown and fortify the dirt underneath. Weed cloth has its place in landscaping but it is not the covering to use for vegetables and gardens where you will be planting or tilling.
Mulching is a best of garden practices; try mulching, you will be glad you did!