Growing Lettuce & Greens: How to Grow Lettuce
Do you want to learn how to grow lettuces and green? With so many things to learn……it can seem daunting to begin a vegetable garden but do not let this stop you from trying your hand at it.
Simply start by to Grow Lettuce and Greens. There is a bit of self-sufficiency in all of us so start with this simple way to grow fresh greens.
Gardening is very rewarding! I encourage you to give it a try as it is definitely something that is doable for everyone, in one way or another:
GROWING LETTUCE & GREENS
You have come to the right place as lettuces and greens are super easy to grow, super fresh tasting and super nutritious. Here are a few tips to growing good lettuce without taking on too much work.
Plus, this is also a super way to add fresh greens to your laying flock's diets. Lettuce and greens are full of nutrients that make wonderful eggs! Your laying flock will be delighted and your egg customers will be thrilled.
The secret to growing lettuce and greens is to:
Start small to not overwhelm yourself
Choose easy to grow varieties for your growing zone
Have really great soil
Provide water and sunshine!
You can start a small pot on your windowsill or plant in patio containers to deciding to grow a kitchen garden or plant a potato barrel or grow bags!
First, assess your situation as to which one of the following describes your available space:
Balcony area for small containers
Porch, Deck or Patio for larger planters and containers
Or the size of larger available garden space
And, the next steps are:
Begin to think about the things that you would love to grow but make sure to grow what you will eat or what you can sell…!! (Also, consider bartering your fresh lettuce for eggs /milk!)
Consider your location with regard to your growing zone, southern exposure and length of your growing season
Consider how to keep critters and varmints out of your garden space and remember that even pets can be a nuisance
Determine the type of soil that you have (there are soil test kits that are available or you can contact your local NRCS or Soil Conservation Office, or Extension Office)
Decide how you will be able to till the ground
Determine what type of nutrients and soil amendments that will need to added
For our growing zone in western Wyoming, I must start many of my plants indoors under a small grow light or in the greenhouse prior to transplanting outside.
SOME OF MY FAVORITE LETTUCE VARIETIES:
These are all really easy to grow and do well when started indoors then moved to the greenhouse or direct seeded into the garden plot.
From raising chickens to planting the harvest, make your busy life a little simpler with proven, durable tools from Lehman's.
So, to begin planting in early spring: I have a Jump Start 2′ T5 Grow Light System (Stand, Fixture & Tube) as shown in the above photo.
I begin all my seedlings indoors in mid-February and March. The above photo shows a variety of lettuces, chard, and kale.
I start these seedlings indoors due to the extreme weather that we have in Wyoming. But, you can also, consider growing greens on a sunny windowsill!
Once the danger of hard frosts and freezes have passed, I start moving the seedlings out to the greenhouse to transplant to larger containers.
It is so easy to have lettuces, kale, and chard growing in flower pots. These "Cut and Come Again" varieties of leaf lettuces are so delicious and perfect for salads and sandwiches.
I just love running out to the greenhouse and picking something fresh for dinner!!!
Consider starting hardier varieties of lettuces, spinach, kale and chard directly in your greenhouse or cold frame (if this is a possibility for you.)
If a greenhouse is not possible, then start your seeds under a grow light and then place in a sunny window.
Remember to place your grow light about an inch above the soil level as your seeds germinate so they have a direct light source. Raise your grow light as the seedlings emerge, keeping the light a couple of inches above the plants.
If you do not have the light source close enough, the seedlings will "stretch" to reach for the light and become "leggy"; which means they grow too fast without enough direct light and become weakened by being too tall. They are not able to support themselves and do not grow well.
Also, consider staggering your plantings between indoors, greenhouse and direct seeding, so you can have fresh greens all summer long.
Plan on planting additional lettuce and greens in your greenhouse in late summer so that you have fresh salad greens into the fall months before the hard killing frosts arrive.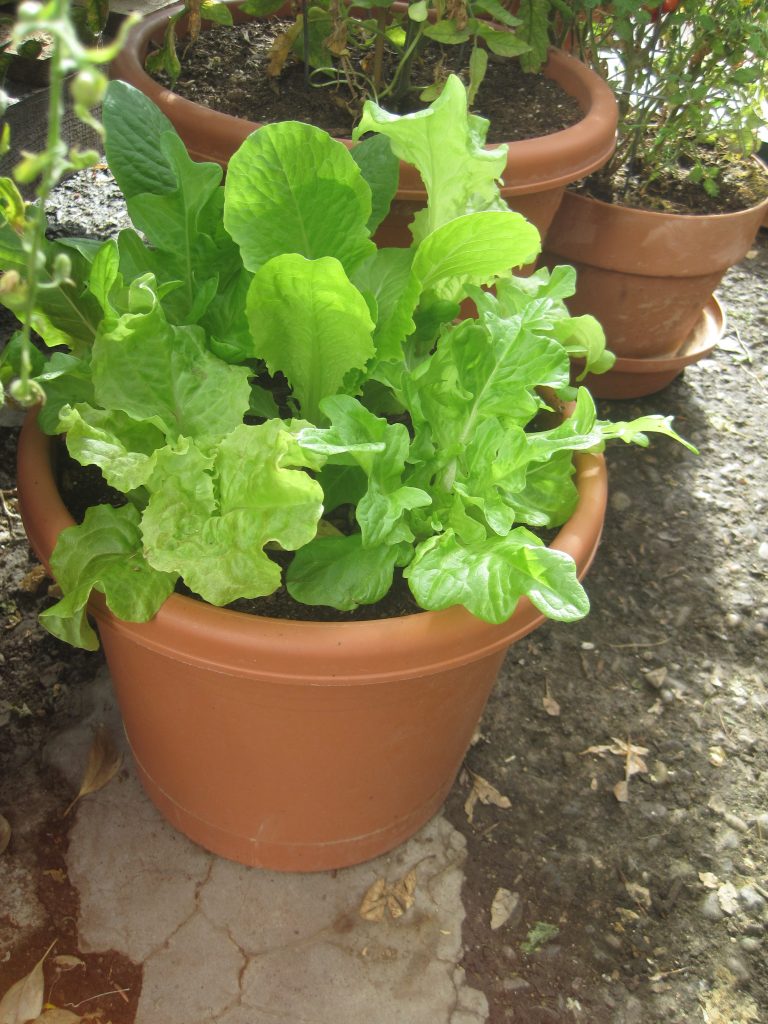 3 Ways to harvest your lettuce and greens:
Pinch off each individual leaf
Cut the lettuce leaves off about 2 inches above the ground
Pull the complete plant out; roots and all
Once you have harvested your lettuce and greens, rinse under cool water being careful not to bruise it. I love my Green OXO Good Grips Large Salad Spinner which has lasted us for years!!!
Rinse, soak, spin and crisp lettuce and greens all in the same spinner.
This is the best all-around kitchen gadget!!!! I use the particular salad spinner for all aspects of washing lettuces and greens.
Here is my: Green OXO Good Grips Large Salad Spinner Original style bowl and Lid.
So, make sure to get high-quality seeds from a reputable source like these:
So, the big take away is:
Start small with "Cut and Come Again" types of lettuce, chard, kale and Mesclun varieties as these are perfect for an easy way to begin "Bringing in the Harvest"!
Make sure to purchase a reliable compost bin from someone like Dual Batch Compost Tumbler.
Pin It for Later!!!
Growing Lettuce and Greens first appeared on OriginalHomesteading.com