This post contains affiliate links to some great products that I feel you will enjoy!
Learn More.
Cucumbers are a wonderful addition to your summer garden or greenhouse. We happen to live at an extreme altitude at over 7000′ in western Wyoming so growing cucumbers in the garden is very tricky. It can be done but a person needs to add season extenders on both ends of the growing season.
Drying Cucumbers
Please Note: I just loaded my small 3-tray dehydrator with a fresh batch of cucumber slices in less than 10 minutes……the cucumbers were sliced while they were still warm from the greenhouse! This method is so fast and so easy. Drying cucumbers for chips makes a wonderfully healthy and delicious snack food!
Here is a sneak peek of the end results…….
Please read on, as it literally only took 10 minutes to prepare and load 3 fresh, greenhouse cucumbers into my dehydrator. Superfast, super-easy way to process cucumbers into a super healthy snack!


What to Do with all those Cucumbers???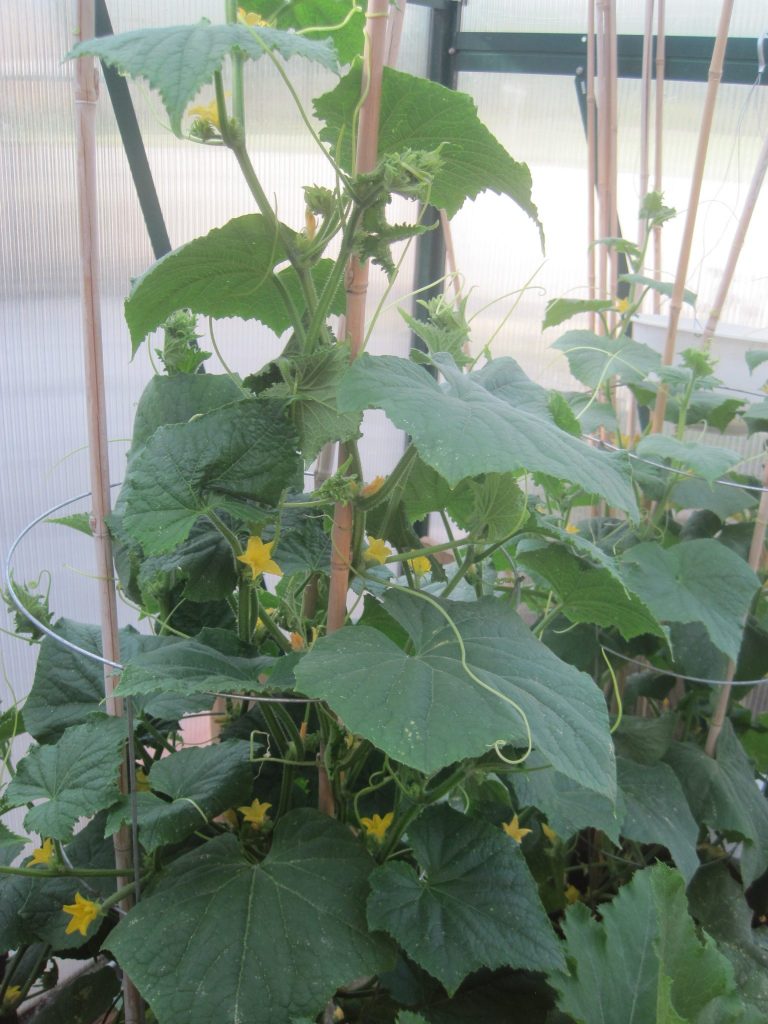 I find it is easier to simply start my seeds indoors and then transplant my cucumber plants into large pots in the greenhouse.
We live at 7000 feet so it is challenging to grow frost-sensitive crops like cucumbers in our vegetable garden. This is where our small greenhouse comes in handy.
Cucumbers are perfect for container gardening in a greenhouse, patio or balcony. Just remember that the vines do sprawl so you will need to provide some type of support.
I like to use wire cages and bamboo stakes that encourage the cucumber vines to grow up instead of sprawling on the ground.
Just as a side note on growing greenhouse cucumbers: It is so important to have some type of ventilation in your greenhouse to discourage powdery mildew or any other diseases. Air circulation is very beneficial, especially for cucumbers.
Now that you have your cucumber plants growing, they will soon begin to flower and then, wow…..all of a sudden you have lots of cukes! And, then more, and more and even more……..remember the 10 minutes that it takes to load your small dehydrator. This is a very worthwhile endeavor!!!
Seasoned Cucumber Crisps
~Drying Cucumbers~
First of all, gather 3 to 6 cucumbers from your garden, greenhouse, local farmer's market or grocery. Simply wash with water to ensure the cucumbers are free from dirt.
If you are using cucumbers from the grocers make sure to rinse with a vegetable wash like Earth Friendly Products Fruit and Vegetable Wash to remove any debris.
Next, slice your cucumbers about 1/8″ to 1/4″ thick and arrange on your drying rack so that the slices are close together but not touching.
Air circulation is vital as it allows the cucumber crisps to dry thoroughly especially around the edges.
I like to spray a light coating of either avocado oil or olive oil on my dehydrator trays as this makes it so much easier to remove the dried cucumber chips when they are crispy.
Freshly Sliced Cucumbers
Dried Cucumber Chips
Now, comes the seasonings part. You may season with whatever you wish or you may simply dry your cucumber slices without any additional seasonings.
The easiest seasonings are simply Pink Himalayan Salt and Vegetable Pepper.
I experimented with Simply Organic Ranch Salad Dressing Mix and Simply Organic Dip Mix, French Onion plus a little paprika.
Just sprinkle a small amount on each slice. Then, repeat with each tray. I have an American Harvest Dehydrator very similar to Nesco American Harvest GardenMaster Electric Kitchen Food Dehydrator
Fill your trays with cucumber slices, season with your choice of spices and then follow the instructions for your specific dehydrator. I dried my slices overnight at 135 degrees or for approximately 6 hours.
Quick Note: it is a good idea to flip all the cucumber slices over once or twice as they are drying to make sure they all dry evenly.
Your chips should be crisp and crunchy when they are thoroughly dried.
Take a test cucumber crisp out of the dehydrator, let it cool, and then taste to see if it is crispy enough.



Once all your cucumber slices have dried, you will need to store them in a dark, cool place. I like to put my crisps in glass jars with screw-on lids.
For short term storage, I pack my cucumber chips in glass jars with a recycled (from vitamin bottles) Silica Pillow Pacs.
These Silica Pillow Packs help to keep the chips dry and fresh. Do not throw your vitamin silica pillow packets away.
Make sure the are dry and then reuse in your dehydrated cucumber chips.
For longer storage, I vacuum seal my jars with this system:
Food Saver Mini Plus Vacuum Packaging Sealer System Kit
Food Saver Wide-Mouth Jar Sealer and Regular-Mouth Jar Sealer Bundle
Once your jars are filled and sealed, simply pop them on your pantry shelf and step back and smile!!! Well, done……
Interesting Posts:
6 Steps to Finding the Perfect Garden Location
How to Store your Carrots for Winter in Your Refrigerator
Drying Cucumbers for Delicious Healthy Cucumber Chips is a post from www.OriginalHomesteading.com
This post was shared on Farm Fresh Tuesdays.….