One of Summer's Best……Learn How to Freeze Strawberries
Another Easy Freezing Berry……Learn all about Freezing Strawberries:
Along with Blueberries, Strawberries are easy to freeze!! Strawberries are perfect for so many uses:  from simply adding to your morning smoothie to making freezer jam to thawing and topping Strawberry Shortcake……….just look at this one!!! Just remember…….So, How to Freeze Strawberries……
Another Easy Freezing Berry……Strawberries
The beauty of the strawberry is seen here………..take that berry energy from the summer sunshine and store it away for renewed vitality. So simple, so easy and really quite quick!
So, what is involved in Freezing Strawberries?
First of all, pick your strawberries in the early morning from your greenhouse or garden……or, pick them up from your local Farmer's Market or grocery…………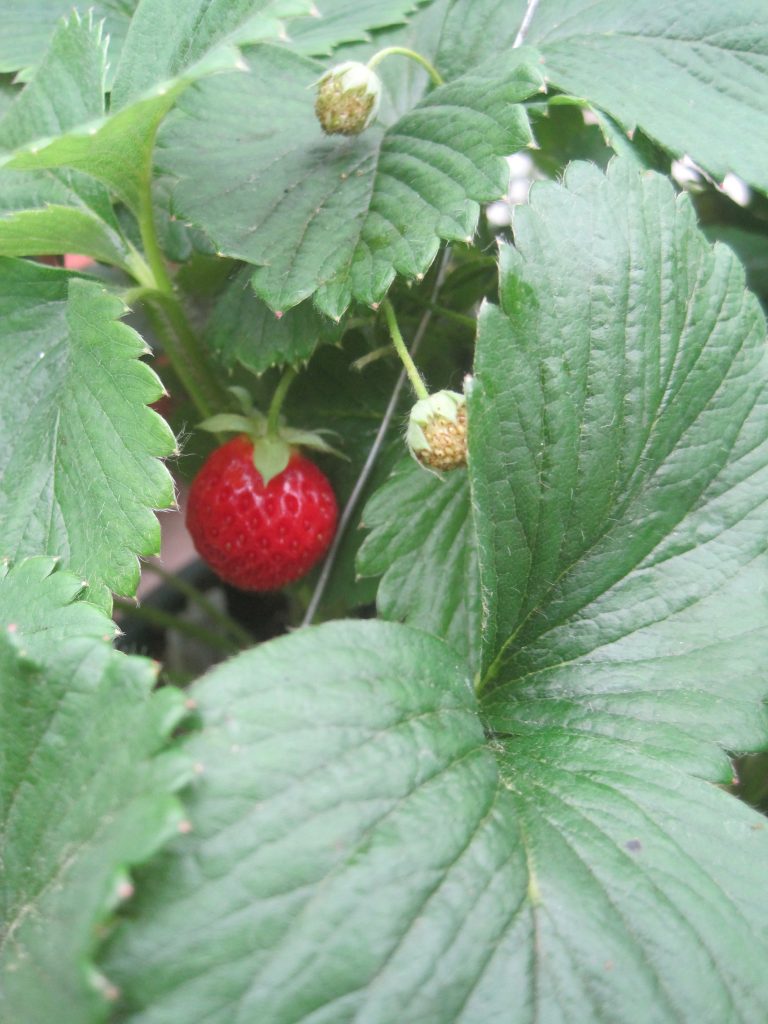 Next, take your handfuls of berries or your containers of berries and place them in a colander to rinse.
I rinse my strawberries prior to freezing but still freeze them individually for ease of use later on. I rinse and sort under cool running water or simply sort, take out green tops and spray with your sink faucet. Anyway you want to rinse is just fine, just make sure your berries are fresh, not bruised or damaged and clean. You may use a small knife to remove the green stem area or you may use the berry huller like this one, Chef'n StemGem Strawberry Huller
for ease of hulling.
Another Easy Freezing Berry……Strawberries
After hulling, sorting and rinsing, I sort by size.
I cut the larger strawberries in half or even quarters as they are easier to add to the blender for smoothies in a more manageable size.
The next step is to simply arrange them on a baking sheet or cookie sheet that can be placed in the freezer.
Make sure to leave enough space in-between berries so they freeze individually.
Wait for a little while to allow the strawberries to completely freeze solid, then take the cookie sheet out of the freezer and tap on the counter to loosen the berries.
You are now ready to pop them into quart size freezer bags for more long term freezing.
Make sure to label each bag with the date they were frozen and then begin to plan on what you can do with all your strawberries………since most Strawberries arrive at the store in June, make sure to watch for sales so you can freeze this wonderful berry for year round enjoyment.

Strawberry Smoothie
♥
Whiz in blender until smooth. Makes one serving. This is delicious, nutritious, refreshing and so easy……….Enjoy!!!
Sparkling

Strawberry Spritzer
♥
Pour sparkling water into your tall glass or quart jar, add strawberries and sweetener of choice. Mix slightly and Enjoy!
Refreshing and Beautiful…..this make you feel good about yourself as it is so pretty to look at and so healthy for you!! I love making things that are easy, healthy and a delight to look at.
You will understand what I mean, especially if you are a visual person……Beauty is definitely in the eye of the beholder of this refreshing drink!!!
In addition, another way to use your frozen berries is to make strawberry syrup…….
Strawberry Syrup
♥
Simply take:
1 cup frozen strawberries
1/4 cup water
1/4 Organic Cane Sugar or Honey
Place all ingredients in a small saucepan and gently heat on low until berries have thawed and the sugar has melted.
Spoon warm syrup over pancakes, ice cream, yogurt, waffles or French Toast. This is wonderful…..such a treat especially during the wintry months!!! Enjoy!!!
Still another strawberry idea…….is to add these delightful berries to a fresh greens salad:
 Strawberry, Kale and Parmesan Salad
♥
This is so simple…..first, you must gather:
Rinse fresh strawberries a toss in with your greens. Next, drizzle olive oil or avocado oil over the greens and berries then top with freshly grated Parmesan cheese.
These is such an easy, pretty way to enjoy the healthy benefits of fresh greens and berries! Plus, the nutritional omegas of olive oil or avocado oil is a wonderful addition to this wholesome and healthy salad.
   In conclusion:
Strawberries are simply one of the best……they are beautiful when added to fruit salads & fruit platters, versatile when used as a garnish for breakfast or lunch and a delight to the eye when simply set on the table by the bowlful.
In addition to being healthy and delicious, they are simply a beautiful berry.
Consequently, they are the Number One fruit in the USA!!!!

Therefore……Look for the Beauty of the Strawberry!!!
Another Easy Freezing Berry……Strawberries
Pin It For Later:
Strawberry Summer
♥