There is only one good intention behind buying and collecting cleaning supplies for your home – to use them and keep your home clean.
But how many untouched cleaning supplies do you have in your home? Simplify today with natural homemade cleaning products.
Often times, we put lots of cleaning supplies in our shopping cart and end up not even using them before buying more……it is insane!
This is why decluttering cleaning supplies is a big deal; once you are done with the process, you will realize how much space your unused cleaning supplies were taking.
Homemade Cleaning Products
A clean, organized, and decluttered house can surely make you feel so much better and open your mind to new possibilities, such as making space for that DIY organizer shelf!
It is pretty contagious……start with one cabinet and then move on to another and then another. Take a quick look on how to simply be more organized!
In this article, we will discuss steps to declutter your cleaning supplies and go natural.
Steps to Declutter
This is for all those who want to declutter cleaning supplies and eliminate harsh chemicals from their homes to prepare for a healthier home environment and to make more space in their homes.
This was hard for me because I am a saver at heart! I like to save money so I just use things up before buying more. But, and this is a big but……take the plunge and simply dejunk your cleaning stuff……you will be amazed at the great feeling this brings!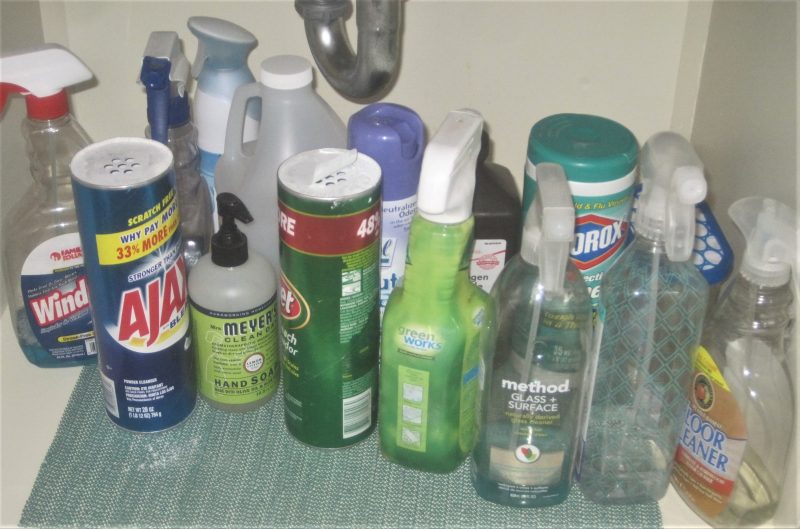 Simplifying for me is also a stress reducer so do what it takes and what works for you. For me, I just gave away the things that I did not want or need. Some of these products were good, some were natural products but my goal was to dejunk and declutter so, they had to go!
I want to get back to simple, period!
Handy Tip: a basketful of homemade cleaning products might be the perfect gift for someone on your list!!!
Step 1: Evaluate and Make an Inventory
The first step is to evaluate and make an inventory for all the products and supplies you have lying in different places of your house. It is wiser to collect all the products and store them in one location. Actually, evaluating, collecting, and making an inventory gives you a clearer picture of what you have and what you need.
Wow…..I was shocked with I started collecting and counting all the cleaning supplies that we had. This was just under one sink……I am so embarrassed!!!
You must scroll to the bottom to see my bathroom cabinet now……..
And, now……I have my favorite 4 ingredients to make just about everything I need for natural and safe cleaning.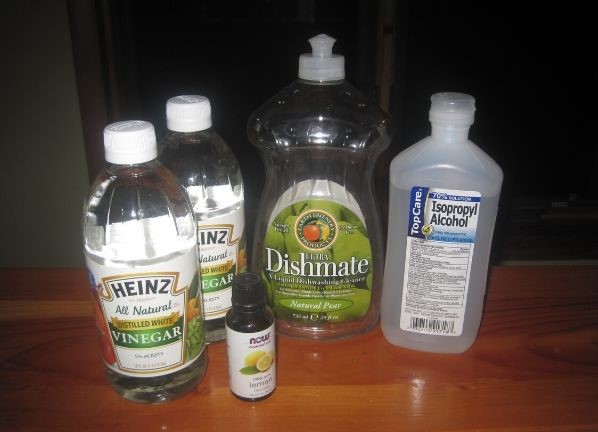 Step 2: Streamline the Products
When you are decluttering cleaning supplies, it's probably best to streamline your products. The easiest way to declutter is to get rid of the items that you don't need anymore or are already expired. But, if you want to use up what you have, consider combining the duplicate products in the same bottle and save up on storing all those extra plastic bottles.
Another important thing to do when streamlining your products is to consider using natural cleaning solutions and natural supplies. Cleaning products often contain acids and other toxic chemicals, which may release harmful toxins in the air around your surroundings.
The fumes from these chemicals can make your eyes burn and make it difficult to breathe causing you to cough. Natural products are safer for you, your family and your home!
Simple Natural All-purpose Cleaning Solution:
Keep a spray bottle of vinegar all-purpose solution (recipe to follow)
Keep a spray bottle of rubbing alcohol for windows and mirrors
Homemade scouring powder (recipe to follow)
Natural Dusting Cloths

Heavy-Duty Cleaning Vinegar

for Toilet bowls
Vinegar for Hard Water Stains
Handy Natural Supplies
Natural Sponges for wiping kitchen counters
Pumice Stone for hard-water build-up on enamel fixtures like toilets, sinks, showers, and tubs
Reusable Un-Paper Towels for convenience
Lamb's Wool Duster
Cotton Cleaning Cloths for everyday
Lamb's Wool Duster
Get Started:
Pop up Sponges-Natural Vegetable Cellulose
Amber Brown Glass Spray Bottles
How to make Homemade Cleaning Vinegar:
2 cups white vinegar
2 teaspoons of natural dish soap to act as a surfactant
10 drops of Thieves Oil or other essential oil for disinfecting surfaces
Method: Combine ingredients and place in a clean glass spray bottle. See the note below on glass bottle options.
How to use: this is an all-purpose spray but do not use on wood surfaces.
Now, as far as the glass spray bottles for both the All-Purpose Vinegar Spray and the Alcohol Glass Cleaner, I opted to use the 16-ounce glass vinegar bottles instead of buying glass bottles. I feel that the actual vinegar bottles are a heavier glass and are safer to use. I will be trying these spray bottles in the future.
Plus, you can simply pour out the vinegar, make your solutions and then store until you need to refill your vinegar solution. The only thing that I discovered is that the threads on the glass vinegar bottles did not match exactly with the threads inside the sprayer top. But, they fit well enough so I will use these until I decide to purchase the other bottles.

How to make Homemade Scouring Powder:
1 cup baking soda
½ cup washing soda
½ cup of salt
Citrus juice from one lemon or lime
Method: Mix all the ingredients in a bowl or jar. Stir them well until they are mixed together. Store it in a cool, dry container, jar or shaker can. I opted to simply punch holes in a canning lid to make my own shaker jar. I like canning jars as they are made with extra strong glass.
How to use: Pour on a clean cloth, clean the required area, and then clean it off with a slightly wet cloth.
So, if you decide to try this, just tap a nail through the lid and then screw this on to your canning jar with a ring. Like this:
Step 3: Organize Your Homemade Cleaning Products
The last thing to do to declutter cleaning supplies is to organize them neatly. The best way to do that is to keep them all in one place or categorize them according to use, such as kitchen supplies, bathroom supplies, etc and make several baskets for each set of supplies.
I put all my new simplified collection of natural cleaning supplies in this simple wire basket. Now, when I need to wipe out the bottom of the cabinet, I just pick up the entire basket and voila!……easy clean.
With these three simple steps, you can declutter your cleaning supplies and start relying on natural products. Once you are done, you will be amazed at the extra space you will have!
I would love to hear what your special natural cleaning tips are!!!!