This post contains affiliate links to some great products that I feel you will enjoy!
Learn More.
Can you believe that bandits and thieves were the creators of this incredibly versatile essential oil blend?
The legend of Thieves Oil has been passed down through the generations. It so happens that a gang of thieves evaded the plague by brewing up this potent potion. They revealed this secret to the masses when they were finally caught.
History of Thieves Oil
I don't know if this story is true or not. However, I can assure you that their ingenious essential oil blend has saved me lots of time.
It has proven to be a handy formula to disinfect and sanitize as well as being a super immune stimulant for colds and flu.
Thieves Oil Recipe
This tried and tested blend is as useful as the one used by those grave robbers from previous centuries. I utilize it for everyday household tasks plus it's an ideal immune system booster for sick days.
The following Thieves Oil Blend is safe for children age 10 and older. Always make sure to dilute this essential oil blend in the ratio of 1: 4 when using topically.
Use Your DIY thieves oil in these recipes
Here's what you need to make your own:
Ingredients:
The above-listed amounts will fill a one-ounce dropper bottle.
To fill a two-ounce dropper bottle simply double the recipe.
You may want to purchase this Majestic Pure Essential Oil Set which includes all the necessary oils for your Thieves Oil Blend.
Method:
Use a

dark glass dropper bottle

to make this botanical blend.

Add the listed number of drops directly from each essential oil bottle or use the teaspoon measurement to add the correct amount to the dropper bottle.

Note: I use a small funnel to fill the dropper bottles.

Shake the mixture in the dropper bottle well.

Special Instructions:
For topical use, dilute your Thieves Oil Blend at the ratio of one part Thieves Oil to four parts carrier oil.
For example: use 1 drop of Thieves Oil to 4 drops of sweet almond oil to rub on sore joints or muscles.
Words of Caution:
♦Thieves oil falls under the category of hot oils. So you should always mix it with a carrier oil when you apply it topically.
♦Besides these words of caution, I'd like you to know that eucalyptus oil and rosemary oil should not be used on children under the age of 10
♦Never take any essential oil internally unless it is of Food Grade quality and has been advised by your healthcare practitioner.
♦Please read the following article on the necessary precautions that must be considered when using essential oils.
7 Fantastic Uses for this Thieves Oil Recipe
Let's look at the best way to use your thieves' oil:
Try this fantastic Homemade Mouthwash with Hydrogen Peroxide and Thieves Oil
Add several drops to Homemade Liquid Hand Soap as an anti-bacterial agent
Add a drop or two to any homemade cleaning solutions for tiles, counter-tops, and kitchenware

Rub it on your trigger points to keep flu, headaches and sore muscles at bay.

Add a drop or two to your dishwasher to freshen and sanitize

Add several drops to your favorite homemade air freshener spray bottle. It disinfects as it freshens the air in any room or use as hand sanitizer

Disinfect and deodorize your laundry by adding a few drops of your Thieves Oil with your detergent.

Add several drops to an aromatic diffuser

following manufacturer's instructions
It's a Wrap!
I promise you that this essential oil blend will be your new best friend. It's got the power to combat those everyday tasks as well as boost your immune system with just a few drops.
So gather your essential oils and whip up this amazing all-purpose blend.
Pin It for Safe Keeping!!!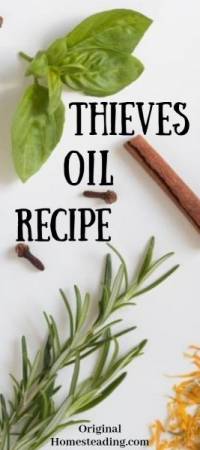 Are you into DIY essential oil blends? Stay tuned for more uses of Thieves Oil Recipe and other homemade concoctions for your everyday activities.
Disclaimer: I'm not a healthcare provider and I can't make any claims on the function of this essential oil blend. Please consult your physician, herbalist or medical caregiver before using my recipe.