This post contains affiliate links to some great products that I feel you will enjoy!
Learn More.
Gardening is a great outdoor activity if you want to spend some quality time with your children and grandchildren. Kids are naturally curious and they like to learn by doing. Working in a garden can greatly satisfy them as they get to observe the cycle of life right in front of their eyes.
Teaching kids to garden also inculcates in them a respect for nature and an attitude of conserving the environment. Most importantly, gardening with kids is downright fun. Kids find tremendous joy doing simple tasks like planting seeds, watering and watching the little seedlings start to grow.
Keep reading to find out some great tips that can help your child learn more about gardening and actually grow a small garden.
1. Give Children Their Own Garden or Containers
Kids love to feel a sense of ownership in whatever task they are given. Whether you have raised garden beds or a container garden, make sure to give your child their own little gardening territory.
This will keep them motivated and they will feel responsible to plan, plant, and maintain their own section of the garden.
2. Always Start Small
You don't have to think about having a large yard whenever you plan to start teaching children about gardening. Instead, working on a smaller and simple garden area is much better as children will not feel overwhelmed all of a sudden when their excitement levels go down. A smaller area will help maintain their interest and curiosity.
Moreover, you should always take on simpler projects when you start gardening with children. It will help them learn about gardening basics such as the importance of sunlight, watering, healthy soil, and pruning in a way that's easier to understand. Consider fast growing veggies like the following:
Gardening assignments such as planting sunflower seeds or beans in tiny containers placed against your kitchen window, planting a small flower garden at the front door, or growing tomatoes in a flower pot on the patio are some interesting options for you to start with.
You can go even consider planting a flower garden in your yard when your child's interest in gardening increases.
If you do not know where to start, take a look at this small but complete growing kit by Mr. Sprout & Company!
3. Give Kids Serious Tools
Every gardener needs a set of good quality tools along with accessories such as gardening gloves, aprons, etc. and your kids are no exception. However, getting your children cheap plastic gardening sets is worse than no tools at all. They are of poor quality and not so durable.
Therefore, you should look for some high quality children's gardening tools to make the activity even more interesting for them. This way, you will also be acknowledging the importance of the work they are doing.
From child-size shovels to mini wheelbarrows and rakes, you can find a wide variety of children's gardening tools in local markets and online stores. Just keep in mind that the tools you choose are safe for kids.
4. Choose High-Interest Plants
Although there's a wide variety of plants and crops that can be suitable for young gardeners, some of them are better than others due to their ease of growth and fun harvesting.
Sunflowers are the top pick for a kids' garden. You only need to plant one or two as they take up a lot of space. The best part is that these plants take just a week to sprout and become a small seedling in the next two weeks. Within 2 months, the flowering begins, revealing beautiful flowers and hundreds of seed kernels. Once the flowers dry, you can take the seeds and roast them to make a healthy snack for your kids.
Cherry tomatoes are also very appealing to kids and again make a delicious snack. They usually produce fruit earlier than larger tomatoes. Other options include leaf crops, such as spinach and lettuce. They grow quickly and can be harvested multiple times. You can also plant peas, bush beans, snow peas, radishes, pumpkins, potatoes, and carrots in the spring for a quick harvest.
If your child has a love for flowers, you should consider fast-blooming annuals, such as pansies, nasturtiums, marigolds, snapdragons, and petunias.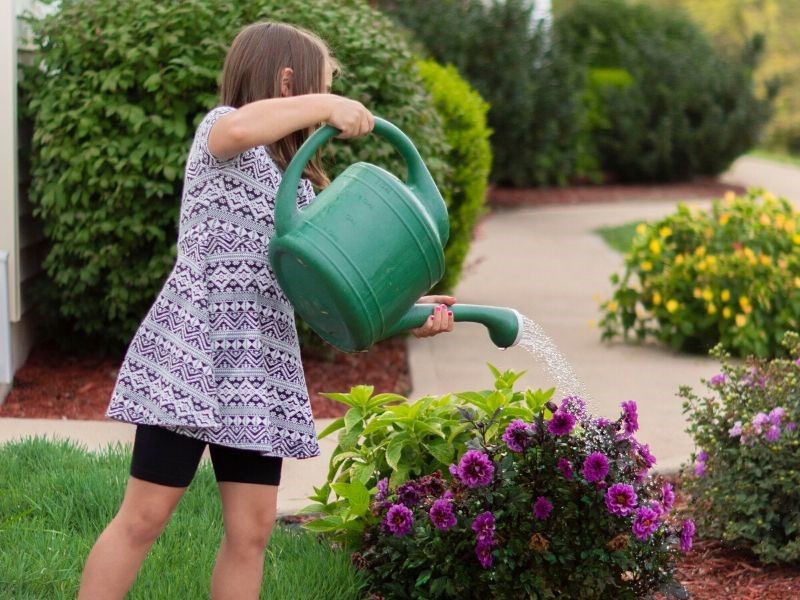 5. Use Gardening to Encourage Good Habits in Your Kids
Gardening is an important skill that can make your children understand a number of other life lessons too. Taking responsibility, understanding the importance of teamwork, enjoying the fruit of your hardwork will all help cultivate positive habits in your little ones.
Moreover, you should utilize the time spent at the garden teaching them how important it is to preserve the environment and save essential resources such as water. There are so many teachable moments when gardening with kids!
Gardening with children doesn't have to be complicated or expensive. With just a little time every week, you can grow and enjoy a simple garden project with your child.
Pin It for Safe Keeping!