Fels Naptha soap is one of the oldest household products that are still available to this day. It's quite popular and has been labeled a super product as it has been suggested to have beneficial skincare remedies, as well as laundry and household cleaning benefits.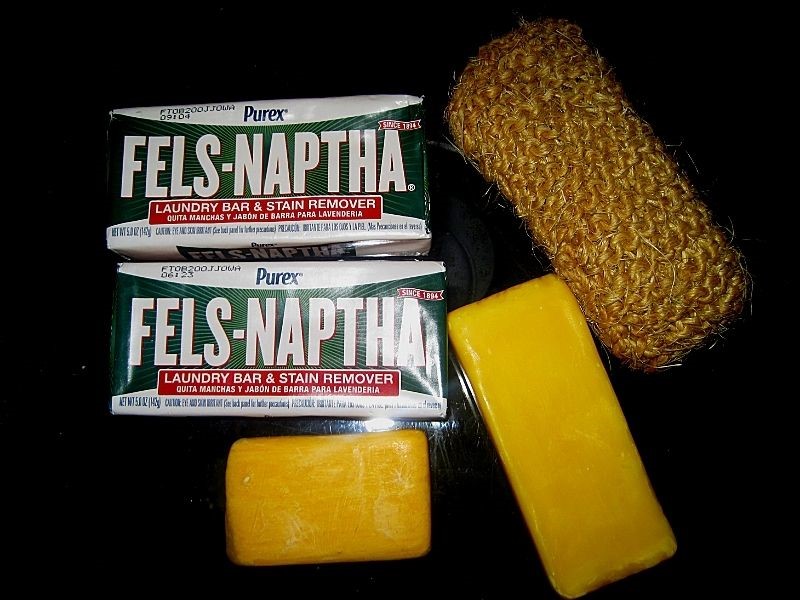 It's essentially a laundry soap bar and stain remover that was first manufactured somewhere around 1894. It became increasingly popular during the Great Depression because it was surprisingly inexpensive and could be used to clean most things around the house.
Fels Naptha Soap
This soap contains sodium palmate, sodium tallowate, and sodium cocoate. It also consists of talc and water. Fels-Naptha ingredients work together to tackle your toughest stains.
Fels Naptha Laundry Bar is also the perfect pre-treatment for tough grease stains. It is a fantastic degreaser.
You may be wondering where to buy Fels-Naptha soap, look at large store like Walmart, Ace Hardware or Amazon.
7 Ways to Use Fels Naptha
Fels-Naptha was typically used for making a homemade laundry soap, but that is just one of its many uses that most people aren't even familiar with. If you're curious about this super product, read on to find out 5 amazing Fels-Naptha uses in and around your house.
1. Pre Stain Treatment
This household soap is the perfect pre-stain treatment for ring-around-the-collar and cuffs. It is easy to use and works extremely well.
Simple wet the area with water and rub the bar of Fels Naptha soap into the fabric. Create some lather by rubbing the fabric. This step helps tremendously in getting your clothes super clean.
2. Homemade Laundry Detergent
This simple laundry detergent recipe is one to love! Click on it for a printable version.
Yield: Small Batch or Large Batch
Homemade Laundry Detergent
How to Make Homemade Laundry Detergent & Save Money!
Materials
Fels Naptha® Bar Soap (5.5 ounces)
20 Mule Team® Borax
Arm & Hammer® Washing Soda
Baking Soda (optional but helpful for hard water)
Oxi-Clean (optional but helpful for stains)
Favorite Essential Oil
Find instructions for Small Batch or Large Batch below.
Tools
Box grater
Measuring cup
Rubber gloves (washing soda can irritate your skin)
Canning Jars or Some Type of Storage Container
Instructions
Instructions for Small Batch or Large Batch
SMALL BATCH Amounts:
1 Bar of Grated Soap
Borax - 2 Cups
Super Washing Soda - 2 Cups
Oxi-Clean or Store Brand - 2 Cups (optional)
40 drops of Essential Oils (optional)
For Hard Water add 2 Cups of Baking Soda
Carefully mix to combine and store in a sealed jar or container

LARGE BATCH Amounts:
3 Bar of Grated Soap
1 Box of Borax (4lbs size)
1 Box Super Washing Soda (3lb 7oz size)
1/2 container of Oxi-Clean or Store Brand (optional)
2 teaspoons of Essential Oils
For Hard Water add 1 Box Baking Soda (4lb size)
Carefully mix to combine and store in a sealed jar or container

Use either the small batch or large batch quantities and follow the instructions.
Grate a bar of soap into flakes using a box or hand grater into a bowl, whatever you have available. You can grate more than one bar; it just depends on how much laundry detergent you're planning to make either a small batch or large batch
In a separate container, mix together borax, washing soda, baking soda, & Oxi-Clean.
Add the grated soap to this mixture
Add essential oils if desired.
If you wish to make more, you can increase the quantity as long as you're keeping the ingredients in the right proportion.
Thoroughly stir the ingredients together and there you have it; your homemade laundry detergent is ready to use.
Notes
Store in a sealed jar or container with a scoop.
Use 1 to 2 tablespoons for small loads of laundry
Use 4 to 6 tablespoons for large and/or dirty loads of laundry
If you want your laundry detergent to have a fresh and long-lasting scent, consider adding Purex Crystals. (but, if you staying more natural then look at the next tip)
You can also create your own naturally scented crystals with essential oils and use them instead of the Purex crystals. The ones that I like are orange, lemongrass and lavender.
3. Bathroom Air Freshener
Need a simple but effective air freshener in your bathroom or closet? If so, then simply place a bar of Fels-Naptha Soap under the sink or on a shelf. The freshness is amazing!
Make sure to place the bar of soap in a small dish or on a plate of some type to protect the cabinet or cupboard surface. Also, look at how you can use Thieves Oil as a Bathroom Air Freshener.
4. Fels Naptha Soap Poison Ivy Treatment
Fels-Naptha can help you get rid of poison ivy overnight, whether it's on your clothes or your skin. All you need to do is apply the soap to the affected area and let it sit for five minutes before washing.
You can repeat this procedure after three hours or just before going to bed. By morning, you'll notice that the poison will be gone completely.
If you came in contact with a more poisonous plant like poison sumac or poison oak, it may take at least 2 or more days to treat it.
5. Protecting Your Garden from Aphids
You can also use Fels-Naptha to protect your garden from bugs.
A simple recipe for Aphids:
Dissolve 1 tablespoon of grated Fels Naptha soap in 1 gallon of hot water
Stir to dissolve, cool and pour into a spray bottle.
Spray aphids weekly until gone.
The spray once a month as routine maintenance.
6. Protecting Your Garden from Deer:
If you need to protect your yard or garden from deer then consider this recipe:
Grate 1 bar of Fels-Naptha and
Dissolve it in a 5-gallon bucket filled halfway with hot water.
Take a 12″ x 12″ piece of cheesecloth and add the follow ingredients:
2 Bunches of Chopped Green Onions
2 Heads of garlic (unpeeled)
4 Whole Eggs (do not crack but leave whole until next step)
1 Cup Chili Powder
1 Cup Cayenne Pepper
Chop the green onions and garlic or process in a food processor.
Place the chopped onions and garlic , the 2 whole eggs, chili powder and Cayenne Pepper in the middle of the piece of cheesecloth.
Tie this bundle with string to secure.
Once you've tied it up nicely, put the bundle of cheesecloth inside the bucket and then crack the eggs. Add more hot water to the bucket and top it with the lid.
Place in Sprayer Bottle
Let it sit in a safe place for a week and then pour the mixture into spray bottle.
Spray this mixture on any areas that you want to protect from animals. Plan on respraying your garden or yard with this mixture about every 2 weeks or after any heavy rains. Use either a hand sprayer or a pump sprayer.
Here's a printable recipe for the Fels Naptha Deer Deterrent Spray.
7. Cleaning Your Sink
You can use Fels Naptha to get your sink to look shiny and spotless; with its grease cutting property, this works great to clean your kitchen sink. Just lather up some Fels Naptha on a soft cleaning cloth or soft brush, scour the sink, and then rinse.
This soapy mixture works great on grease and grim!
Once you're done washing and rinsing, use a dry cloth to wipe the sink and gently rub to a shine.
This will give your sink the smooth polished look you've been hoping to see.
8. Clean the Bathroom
Make a simple spray to clean your bathroom. Grated and dissolve one tablespoon of Fels Naptha Soap into one gallon of hot water. Pour this mixture into a spray bottle and use to clean and freshen your bathroom.
9. Mold and Mildew
Bathroom mold and mildew is nasty especially as it builds up in your tile grout. Take preventive steps to keep mold and mildew away.
Using a dry bar of Fels Naptha soap, simply rub the bar into the grout and scrub with a brush to help clean mildew and mold from damp places. Do this weekly to keep your shower free of mildew.
10. Cleaning Stubborn Stains on Your Carpet
Have a stubborn stain on your carpet? Feel free to use Fels-Naptha to get rid of it within minutes.
All you need to do is grate a bar of Fels-Naptha soap and then dissolve it in hot water. Take a scrub brush to get the stain out or your use the hot water mixture in your carpet cleaner for even better results.
Make sure to do a small test area to make sure this mixture is safe for your carpet or rug.
Bonus: The List is Long of the Fels Naptha Benefits
Fels Naptha soap is one staple product to have on hand. Here is an overview of the possible uses for this simple soap.
Odor Eliminator – place unwrapped bar of Fels Naptha and place in area to freshen the air.
Use as a Magic Eraser on counters and floors to remove black marks. Make sure to wipe up on floors so they are not slick.
Clean and freshen refrigerator and fruit/vegetable drawers
Garden Insecticidal Soap Spray for aphids
Garden spray to repel animals
Laudry Pre-Treament
Homemade Laundry Soap Recipe
Carpet Spots and Stains (always do a pre-test)
Ring-Around-The-Collar Pre-treatment
Air Freshener Bar
Clean Outside Lawn Furniture
Final Words
Fels Naptha Soap is actually quite safe to use. This soap has stood the test of time. Although there are a ton of spot and stain removers available on the market, I find I reach for my yellow bar of Fels Naptha soap more and more to remove stubborn stains and it still works the best!