Homemade Gifts in a jar are exciting, sweet, and the perfect holiday gift for friends and family. The best part is that you can be creative and thoughtful at the same time.
You can use jars of different sizes, wrap them up with a ribbon or crochet cover, or hand paint it to make it special.
Ideas for homemade gifts in a jar can include anything, from ready-to-eat cookies and candies to scented bath salts, candles and hand soap!
Homemade Gifts in a Jar
Try out these 8 budget-friendly ideas to make special Christmas and Thanksgiving gifts.
1. Brownie Mix in a Jar
Who doesn't love brownies? Imagine scrumptious brownies on a cold winter evening with a nice cup of foamy coffee! Brownie mix in a jar is the perfect way to share your handmade goodness with your loved ones. A mix is a good idea as they can bake it whenever they want to have it and enjoy it fresh and moist.
What you will need:
All-purpose flour
Baking powder
Sugar
Salt
Cocoa powder
What to do: Mix all the ingredients together and your brownie mix is ready! All your guests have to do is add butter, eggs, and vanilla extract.
Instructions:
2. Cookies in a Jar
Oatmeal cookies, shortbread cookies, or the good old chocolate chip cookies – there are many ways to bake cookies! You can never go wrong with cookies. Bake cookies and decorate them according to the holiday season to add to the cuteness.
Gingerbread man, elves, and Santa cookies can add great joy to the festivities.
What you need for wholesome chocolate chip cookies:
All-purpose flour
Baking powder
Cocoa powder
Chocolate (lots of chocolate)
Chocolate chips
Butter
Recipe:
3. Scented Candle in a Jar
Candles are romantic, sweet, and a good décor item for homes, especially on a winter evening. You can use wax to create your own homemade candles, add scents to them, and decorate them with colors.
What you need:
Color
Fragrance oils
Decorative stuff
Canning Jar or another type of jar
What to do: Melt the wax in a pot. Add the colors and fragrance oils. Pour it in a jar and decorate using your favorite it
Instructions:
4. Cinnamon Honey Butter in a Jar
Cinnamon honey butter is a quick and delicious homemade gift in a jar recipe. All you need is honey, butter, cinnamon, and powdered sugar.
Rich and creamy cinnamon honey butter will add sweetness to your loved ones' holiday festivities.
What you need:
Honey
Butter
Cinnamon
Powdered sugar
What to do: Mix them all together until smooth.
Recipe:
5. Snow Globe Jar
This unique snow globe idea is an easy DIY holiday gift that celebrates the Christmas mood.
You will need to hot glue the figurines and trees into place, put it in a jar, and add glitter to give the essence of snow. It will be the perfect holiday décor.
Instructions:
6. Jasmine Bath Salts in a Jar
Lavender and jasmine are the perfect fragrances and aroma for winter evenings. These bath salts are a great idea for homemade holiday gifts as they are refreshing.
They make a fabulous gift in a jar. You can personalize it for your loved ones by adding additional scents that they would like, such as orange peel and cocoa or Heartsong by Aurora Cacia.
What you need:
2 cups Epsom salt
1/2 cup sea salt
1/2 cup baking soda
15 to 30 drops combined of lavender and Jasmine essential oils
Swing top Jar or Canning Jar
What to do: Mix them together and leave them to dry.
Instructions:
7. Fruit Jams in a Jar
Raspberry, Strawberry, Blueberry, Blackberry  – you can make any type of jam but I especially love this easy low sugar mixed berry jam recipe.
You can make several batches to have on hand to give to your family, friends, and guests who come over in the holidays. Use my simple low sugar jam recipe that I know your friends and family will love. 
What you need:
Your favorite fruits – fresh or frozen
Sugar
Pectin
1/2 Pint Size Canning Jars and Lids
Ribbon to decorate
Here is the full recipe: click the blue link
8. Hand Soap in a Jar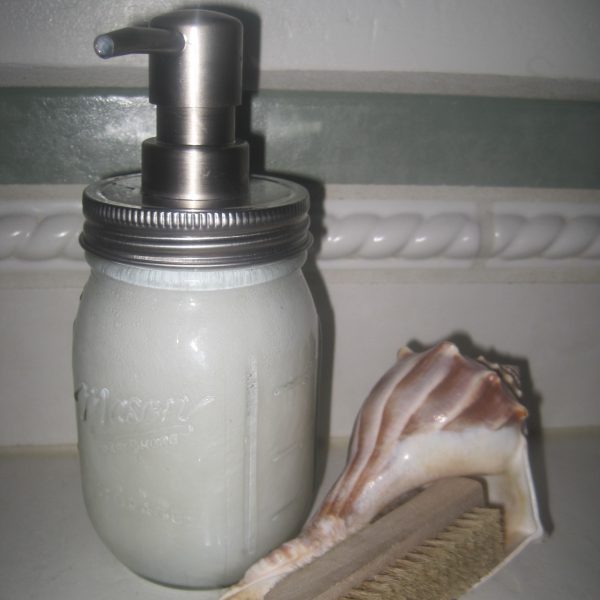 Sometimes practical, usable gifts are the best! I love receiving gifts that I can put to use right away. This is my go-to favorite hand soap. I make 1/2 gallon at a time and refill my pint pump jar as needed.
The recipe is very inexpensive as one bar of soap makes an entire half-gallon of liquid hand soap. It is fun to make and works well.
For gifts, just jazz up the pump jar with ribbons and bows for the perfect present.
What you need:
One 4 ounce bar of soap
A grater
Kettle
8 Cups of Distilled Water
Pint Canning Jar
Pump Top Dispenser
Ribbon or yarn to decorate
Add recipe label if desired
Instructions:
9. Empty Jars Filled with Goodies!
And, do not forget this special tip……especially when you are in a hurry and pressed for time.
Fill canning jars with nuts, spices, candies, homemade granola and even birdseed! Use what you have to make a unique but inexpensive gift.
Try these easy and budget-friendly homemade jar ideas and recipes this holiday season. Your guests will truly love them!
10. Cinnamon Sugar in a Jar
Homemade Cinnamon Sugar makes a wonderfully simple but thoughtful gift…..anytime of the year!!! Place the Cinnamon Sugar in a special flip top jar, add a ribbon and a little tag and you have the perfect gift for year round giving!
Plus, your family and friends will love it♥
Pin It for Later!